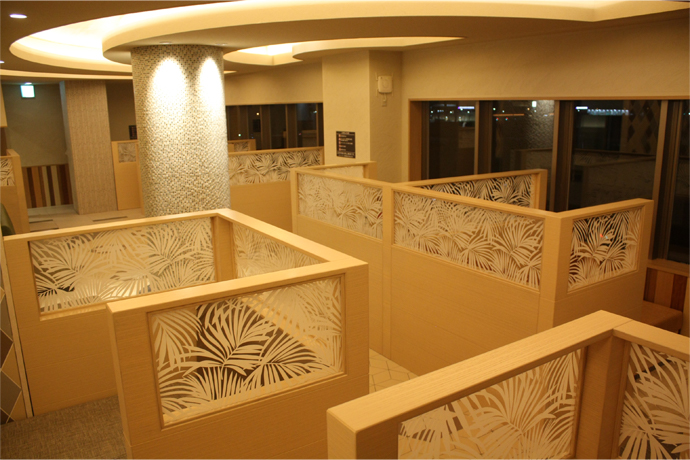 4FKoudokudo
A low-temperature bedrock bath where you can relax while reading comics or magazines. Booth seats are equipped with USB terminals and outlets. It is a new sensation bedrock room where you can relax in a relaxing space with personal booths that allow you to bring in your smartphone.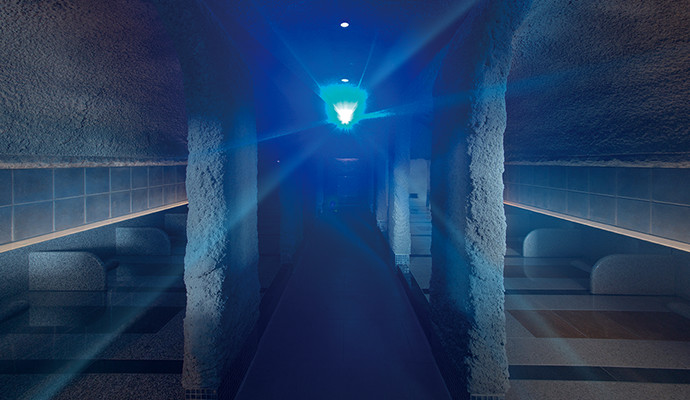 3FBlue Cave
The pride of Bisai Kanbo, Blue Cave is a mystical and majestic blue space that lures you to into the extraordinary. A mysterious ambience is created by lighting the steam that fills the cave. The steam makes the temperature feel slightly higher than it actually is. This cave is expected to improve the metabolism, relax the nerves, and have a detoxifying effect.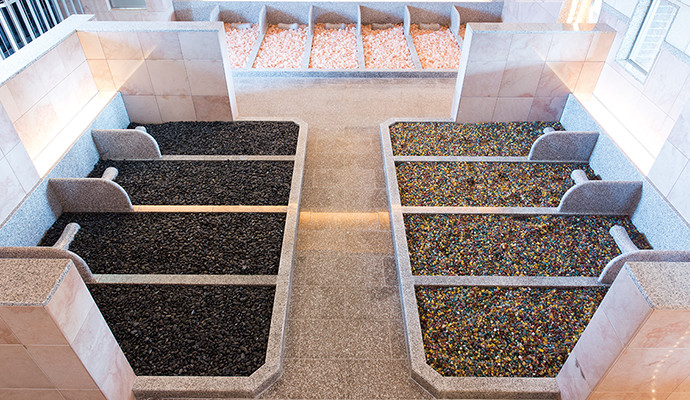 3FBikousaido
The largest of the stone spas uses various medicinal stones. There are two types of stones: crushed stones that sink and conform to your body and a slab that clings close to your body. This stone spa improves circulation and the metabolism, as well as beautifying the skin.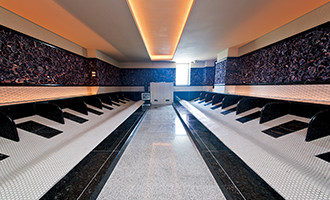 3FAmethyst Cave
Amethyst is said to "Protect True Love", and its brilliance and elegance has long captivated human beings. With a relaxing effect, amethyst helps insomnia and beautifies skin.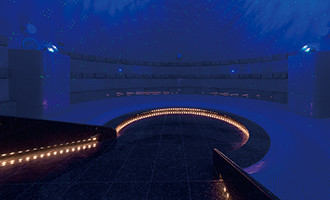 3FHanjyunmaku
Hanjyunmaku is a glimmering, healing space where you can lay down to see a star filled sky on the ceiling. The style of this traditional can be found in documents dating as far back as the 15th century. Far infrared rays reflect off each other in the circular space and helps to accelerate detoxification.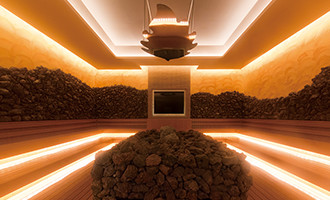 3FShakunetsu Cave
This powerful atmosphere is created with Mishima Lava (Mishima City, Shizuoka Prefecture), which is as renown as Mt. Fuji, and is rich in minerals and negative ions to promote relaxation. Loyly service is also available.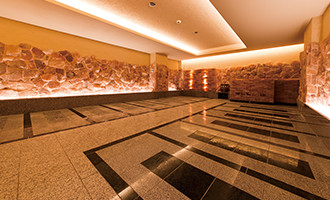 4FEnrei Cave(Women Only)
The lit rock salt has a relaxing effect in this calm atmosphere. The rich minerals have a purifying effect, aid in recovery from fatigue, and improves balancing hormones. Take deep breathes for anti-aging and skin beautifying effects.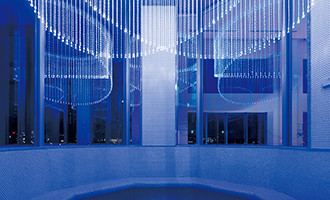 3FGinhyo Cave
The mystical atmosphere decorated with Swarovski creates an atmosphere and temperature that is out of this world. Cooling muscles that were warmed in other rooms improves lymph and blood flow, keeping skin fresh! *No aroma available due to low temperature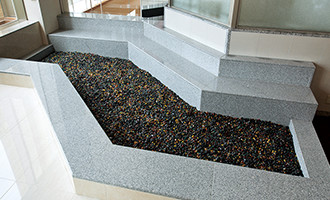 3FAgate Foot Bath
The foot bath made of agate stone is believed to alleviate anxiety and stress. Relax with a book in your hand and let go of your stress to rejuvenate the soul.